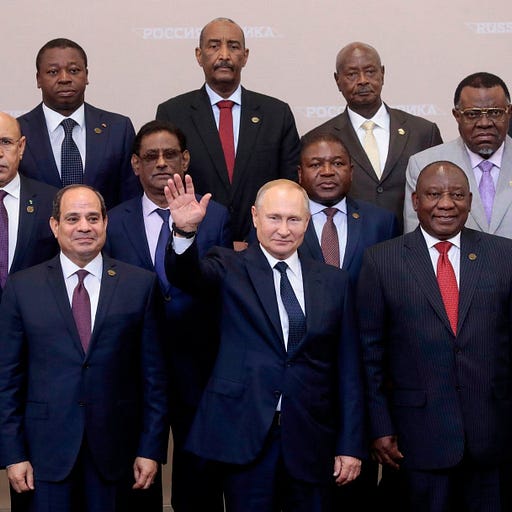 Apr 13 • 17M
Why so many Africans are HUGE supporters of Russia and Vladimir Putin. LISTEN NOW to Episode #789 of The Breakdown with Shaun King
Go now to Apple Podcasts or Spotify, or simply click the play button here to listen to today's full episode of The Breakdown with Shaun King
A daily podcast from Shaun King, unpacking stories of injustice, racism and corruption, including action steps for meaningful change.
Dear Friends,
For the next 18 days we are truly in a drive for the future of this podcast and of The North Star! If you love what we do, if you read our articles or enjoy The Breakdown podcast, we now need 5,300 new or returning members to keep our work going!
Please don't assume someone else will step up, OK? We need you!
Become a monthly or annual member HERE for as little as $8!
Thank you so much!
Shaun
Please listen to today's full episode of The Breakdown with Shaun King FOR FREE by clicking the play button above or listen directly on Apple Podcasts or Spotify! When you subscribe and listen there, it helps us. We are now getting back to emailing each episode, and opening up comments for everyone as well. Please listen, subscribe, share, and comment below!
Click HERE to listen on Apple Podcasts.
Click HERE to listen on Spotify.
---
SHOW NOTES: HINT - it's not just because of Russian propaganda.
Russia has a VERY long history of truly supporting the continent of Africa when almost the entire white world was either standing down or literally doing the oppressing during colonization and Apartheid.
That's at the root here, but even beyond that, nations like Russia and China continue to provide billions of dollars not of "aid," but investment into massive development projects that again, most of the white world has ignored.And so, when Putin does something that I think is truly horrible in the invasion of Ukraine, and commits countless war crimes in the process, most African leaders are almost completely unwilling to call him out.
Let me unpack and explain it.
To listen to today's FULL EPISODE of The Breakdown click these links on Apple Podcasts or Spotify or go there directly and search for "The Breakdown with Shaun King." Subscribe there for FREE and listen to the podcast.

If you are already on Apple Podcasts or Spotify, please subscribe, listen, share, leave reviews, and listen daily to the entire episode. The more of it you listen to, the better it is for us.

Love and appreciate you all.

Shaun
---
ABOUT THE AUTHOR: Shaun King is one of the most followed and shared activists and journalists in the world. In addition to being the Founder and Editor in Chief of The North Star, he also leads the Grassroots Law Project and the Real Justice PAC. A historian by training, Shaun King is the New York Times bestselling author of Make Change: How to Fight Injustice, Dismantle Systemic Oppression, and Own Our Future. His upcoming book, a memoir called Lemons and Stones, is on sale now! Shaun's daily news podcast, The Breakdown with Shaun King, has been heard and shared hundreds of millions of times in almost every country in the world and is available on Apple Podcasts, Spotify, and everywhere podcasts are heard. Shaun has been with his brilliant wife, Dr. Rai King, for nearly 25 years, and they are raising their 5 kids in Brooklyn, New York.