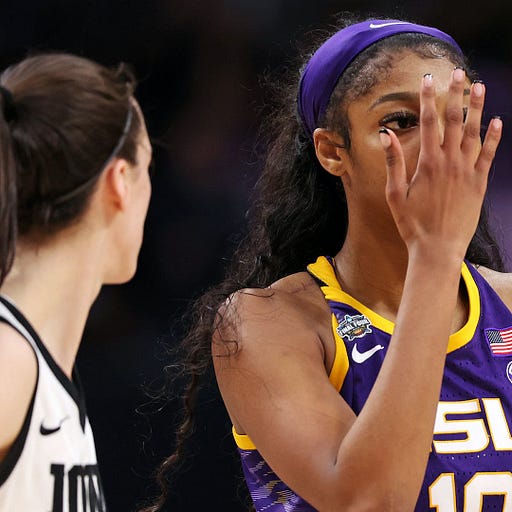 Apr 3 • 21M
White men LOST THEIR MINDS when a Black woman athlete did the same thing they celebrated a white woman for - Episode #781 of The Breakdown with Shaun King
Go now to Apple Podcasts or Spotify, or simply click the play button here to listen to today's full episode of The Breakdown with Shaun King
A daily podcast from Shaun King, unpacking stories of injustice, racism and corruption, including action steps for meaningful change.
Dear Friends,
For the next 28 days we are truly in a drive for the future of this podcast and of The North Star! If you love what we do, if you read our articles or enjoy The Breakdown podcast, we now need 5,400 new or returning members to keep our work going!
Please don't assume someone else will step up, OK? We need you!
Become a monthly or annual member HERE for as little as $8!
Thank you so much!
Shaun
Please listen to today's full episode of The Breakdown with Shaun King FOR FREE by clicking the play button above or listen directly on Apple Podcasts or Spotify! When you subscribe and listen there, it helps us. We are now getting back to emailing each episode, and opening up comments for everyone as well. Please listen, subscribe, share, and comment below!
Click HERE to listen on Apple Podcasts.
Click HERE to listen on Spotify.
---
SHOW NOTES: I hate to say this, but racism is so deeply ingrained into every fiber of this nation's being that it seems like no matter how hard some of us try, we just can't escape it. And sure enough, it reared its ugly head last night during the NCAA Women's Basketball Championship.
Today I'll break it all down, but if you hadn't heard, the basics are this: A star white player for Iowa has talked MAJOR trash all year and been celebrated for it - no matter how brash, crass, or over the top it was. But when a rival player from LSU talked that same brash trash right back to her, white folk simply lost their minds. The double standard was brutal. And it was just a painful reminder that even when we are seeking a form of escapism through sports, that bigotry is just lurking right their beneath the surface.
Let me unpack and explain it.
To listen to today's FULL EPISODE of The Breakdown click these links on Apple Podcasts or Spotify or go there directly and search for "The Breakdown with Shaun King." Subscribe there for FREE and listen to the podcast.

If you are already on Apple Podcasts or Spotify, please subscribe, listen, share, leave reviews, and listen daily to the entire episode. The more of it you listen to, the better it is for us.

Love and appreciate you all.

Shaun
---
ABOUT THE AUTHOR: Shaun King is one of the most followed and shared activists and journalists in the world. In addition to being the Founder and Editor in Chief of The North Star, he also leads the Grassroots Law Project and the Real Justice PAC. A historian by training, Shaun King is the New York Times bestselling author of Make Change: How to Fight Injustice, Dismantle Systemic Oppression, and Own Our Future. His upcoming book, a memoir called Lemons and Stones, is on sale now! Shaun's daily news podcast, The Breakdown with Shaun King, has been heard and shared hundreds of millions of times in almost every country in the world and is available on Apple Podcasts, Spotify, and everywhere podcasts are heard. Shaun has been with his brilliant wife, Rai, for nearly 25 years, and they are raising their 5 kids in Brooklyn, New York.