MIC DROP MOMENTS of 2020: Speeches That Shook the Culture
The North Star is a network of Black and Latinx journalists and creators that provide daily news stories and podcasts with action steps that help you get involved. We speak truth to power without fear because our stories, our voices and our lives matter. Please consider becoming a member and enjoy exclusive benefits of our ad-free platform for as little as $5 a month.
Raise your hand if you thought the world would shut down when the clock struck midnight on January 1? The year 2020 has been one of the wildest, most unpredictable years to ever be a year, but here we are in the closing days of this unique history.
If this year were a script in a sci-fi thriller, the coronavirus pandemic by itself would be enough of a plot for the characters to contend with. But in America, where real-life horrors are commonplace for marginalized people, a public health crisis was not extreme enough to put moments of state-sanctioned violence or gender inequality or overall systemic inequity on pause.
I mean, America gotta stay on brand, right?
Fortunately, this year was also filled with heroes who used their voices to speak truth to power and articulate resistance in a moment when their biggest concern should have been simply dodging COVID-19. The North Star celebrates some of the year's biggest "Mic Drop Moments." There are some familiar voices and some from folks whose names landed in our living room conversations after their speeches went viral.
All of whom said exactly what needed to be said when it needed saying.
Gary Chambers Made "Connie" the New Name for Racist White Women at EBR School Board Meeting
This mic drop moment happened in my hometown of Baton Rouge and sent shockwaves through social media for days on end. During a lengthy East Baton Rouge Parish school board meeting, EBR school board member, Connie Bernard, was caught shopping online amid a heated discussion around renaming Lee High School.
The high school, named after Confederate general Robert E. Lee, had been a subject of contention among community members for years. Bernard, who had a previous history of controversial stances and actions as a school board member, was doin' way too much at the wrong time.
When the floor became open for public comments, activist and publisher Gary Chambers took to the podium to drop one of the most scathing reads of a public figure ever filmed. For three minutes, Gary gave Connie that work, deriding her for being dismissive of the topic at hand and giving her (and the audience) a brief history lesson on the cruelty of Robert E. Lee as a slave owner.
Gary's moment was shared by everybody from LeBron James to Madonna. His social media numbers quadrupled overnight, drawing attention to the years of advocacy he has been a part of in Baton Rouge.
Currently, there is a social media (and real-life) campaign to get Gary to run for Congress after Cedric Richmond's appointment to the Biden administration left a vacancy open for a Louisiana representative.
Gary's mic drop moment has gained him numerous donations and serious momentum, all while giving the culture a new moniker for problematic, casually racist white women: Connie.
Mic Drop Moment: "So I had intended to get up here and talk about how racist Robert E. Lee would, but I'm gonna talk about you, Connie, sitting over there shopping while are we talking about Robert E. Lee."
Kimberly Latrice Jones Asked, "How Can We Win?" During a Summer of Unrest
The police killing of George Floyd by Minneapolis police officer Derek Chauvin was arguably the most horrific moment captured on film in 2020. For eight minutes and forty-six seconds, a socially distant nation watched in horror as media outlets all over the world aired the civilian clip of Chauvin kneeling on Floyd's neck until he was rendered lifeless.
Floyd's killing sparked international protests on the heels of the vigilante killing of Ahmaud Arbery and the developing story around the police killing of Breonna Taylor. As millions of protestors took to the streets and the world was seemingly set on fire, best-selling author and activist Kimberly Latrice Jones delivered a passionate speech that redirected the vilification of protestors and examined the history of American terrorism against Black bodies to explain how we arrived at the moment.
Using an extended metaphor of a game of Monopoly, Jones brilliantly dissected centuries of inequity levied against Black Americans that culminated in the explosive response to Floyd's killing. She was not here for one iota of empathy for corporations that were desecrated, and she calls on the heads of those companies to be standing in solidarity with those protesting.
Kimberly's words went viral, reaching hundreds of thousands during a period of immense reckoning. Several companies crafted some version of a "Black lives matter" public relations statement in response to the outrage of the streets, and this mic drop moment can certainly be credited as a tipping point in the conversation around valuing Black lives over property.
Mic Drop Moment: "They are lucky that what Black people are looking for is equality and not revenge."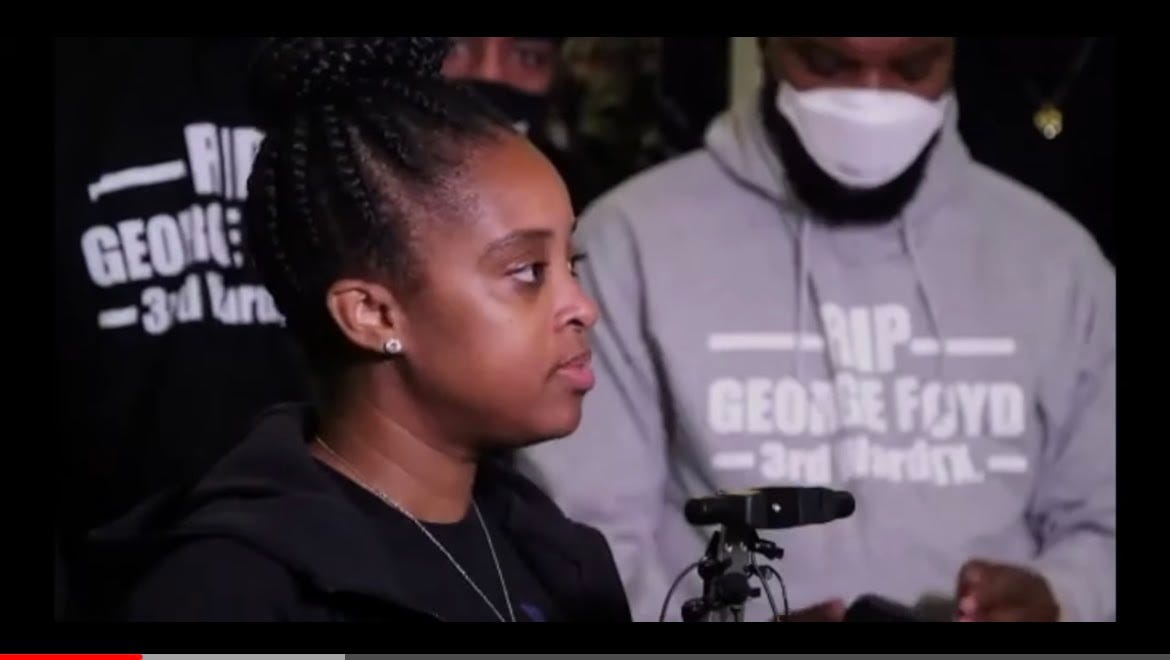 Tamika Mallory's Urgent Call for Accountability from the Powers-that-Be
Tamika Mallory is arguably your favorite activist's favorite activist. The Until Freedom co-founder and co-chair of The Women's March is a walking revolution and undoubtedly the people's champ. In 2020, she had led the charge in calling for the arrest of the Louisville police officers who killed Breonna Taylor, been on the frontlines of some of the biggest rallies in the nation, made appearances on albums of major recording artists, and reached the apex of #BlackGirlMagic when Beyoncé name-dropped her on a song advocating for freedom.
Tamika's presence in the social justice sphere has been ubiquitous and afforded her higher platforms such as podcasts and a forthcoming book. She tells it like it is and puts her body on the line to advance the liberation of Black people.
At the height of demonstrations in Minnesota following the murder of George Floyd, Tamika delivered an urgent oration calling for not only the arrest of the cops responsible for Floyd's murder but also a sweeping indictment of murderous cops across the land.
With the verbal swagger of a preacher and the energy of an abolitionist, Tamika knows how to summon the energy of the people and enact mobilization as very few can. Her advocacy is a gift to the struggle and a necessary tool in championing our humanity.
Mic Drop Moment: "We are not responsible for the mental illness that has been inflicted upon our people by the American government, institutions and those people who are in positions of power. I don't give a damn if they burn down Target because Target should be on the streets with us calling for the justice that our people deserve."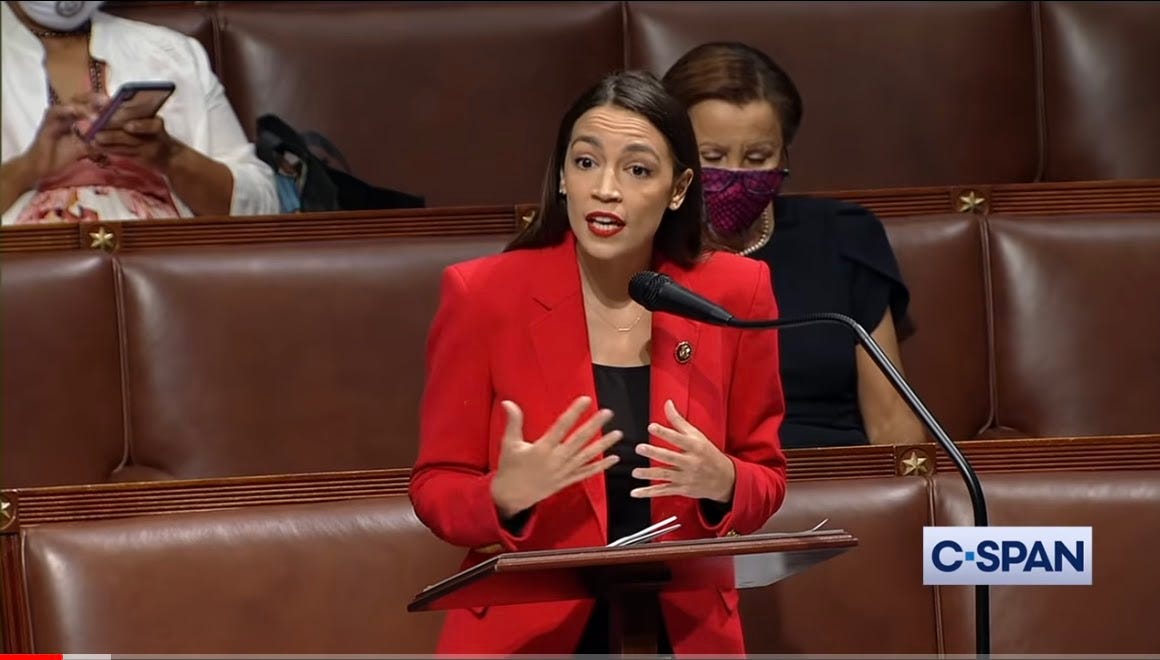 AOC's Response to Ted Yoho is a Rallying Cry for Women Everywhere
There is a shortlist of American politicians that serve with the integrity of Congresswoman Alexandria Ocasio-Cortez (AOC). The Bronx-born millennial and Representative for New York's 14th congressional district has been a lightning rod for progressive politics since she upended then-incumbent Joe Crowley to become the youngest woman in history elected to Congress.
Her straight-shooter banter has made her a hero of millions and a perpetual adversary to Trump-adjacent politicians who would love for her and her "Squad" colleagues to remain silent.
In the thick of a tumultuous summer rife with racial tension, AOC brought attention to another persistent social dilemma that affects women of all ages, races, and socio-economic statuses: sexism and misogyny. While standing on the floor in the House of Representatives, Cortez testified about an encounter she had with Republican Florida representative, Ted Yoho, who referred to her as an "f-ing b****," after an alleged confrontation on the steps of Capitol Hill.
AOC spoke candidly about her experiences encountering similar abusive language as a waitress and bartender, and while riding the subway in New York City. The power of her mic drop moment was her ability to correlate what she experienced as an elected official and what everyday women experience at their jobs, on the streets and in their communities.
If Yoho had any amount of decency towards women before that moment on Capitol Hill, AOC exposed him for his fraudulent claims of respect.
She was eloquent. She was poised. And she sonned the shit out of him. You love to see it.
Mic Drop Moment: "Mr. Yoho was not alone he was walking shoulder to shoulder withRepresentative Roger Williams, and that's when we start to see that this issue is not about one incident. It is cultural. It is a culture of lack of impunity of accepting of violence and violent language against women an entire structure of power that supports that."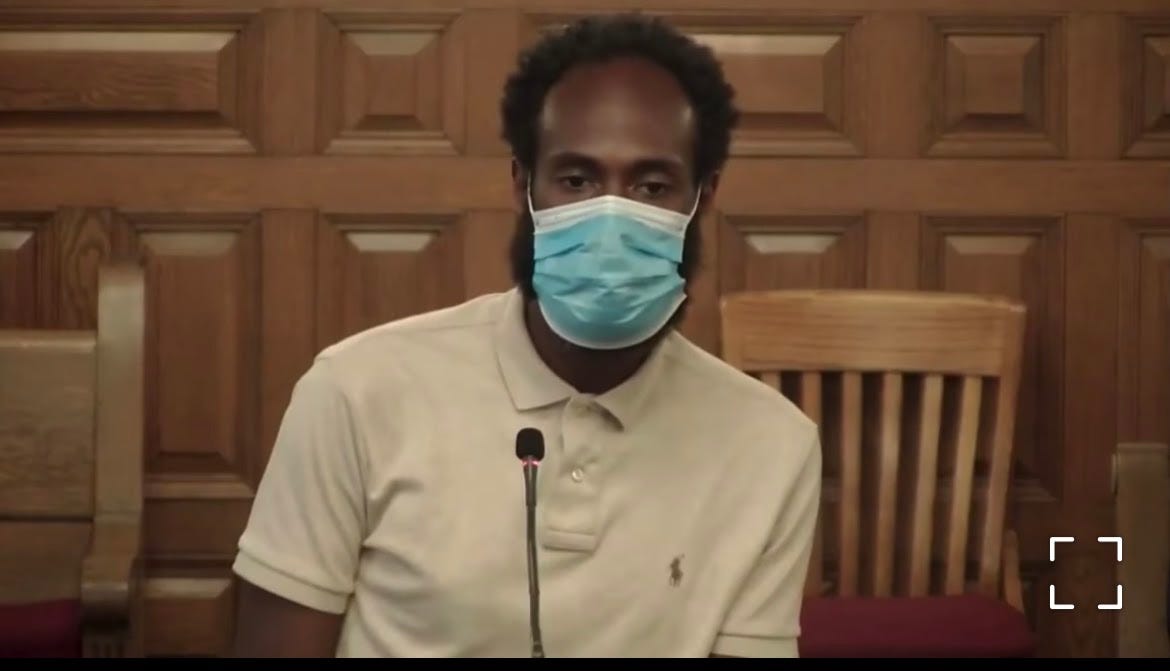 Yusuf Abdul-Qadir Calls the Syracuse Metro Council Out on Police Budgeting
One of the most hotly contested debates to emerge in 2020 is the phrasing "defund the police." Activists who fight on the frontline make the case that the call for defunding is the type of bold action necessary to force a reallocation of public resources and reimagining of public safety. Those who oppose the phrase view it as a polarizing decree that will not yield desired results and lacks the nuance needed to convey the point of police reform.
But that's just it; folks who are calling for defunding are not suggesting reform because reform often equates to strengthening police resources in hopes of better outcomes.
Yusuf Abdul-Qadir, a Senior Strategist for Racial Justice at New York Civil Liberties Union (NYCLU), gave an abbreviated master class in the specifics of the call for defunding when he addressed the Syracuse Metro Council back in July. With a mask covering his face (like a responsible citizen), Yusuf plainly illustrated the deficit of resources Syracuse endures while funding is ballooned into a police department filled with officers who do not live in the community they police.
He brings to light Syracuse's underfunded school district to prove a point of how redistribution of resources could be used if extracted from the police department, highlighting the fact that a large number of the department's officers pay taxes in communities with some of the state's best schools.
Yusuf's comments are met with applause by community members attending the council meeting, as he provides clarity to the defund movement with tangible examples. His mic drop moment undoubtedly irritated elected officials in Syracuse and beyond. It directly contrasts with the 'business as usual" status quo of American policing that often takes more from the community than it gives.
Mic Drop Moment: "So when you say that the vast majority of the percentage goes towards salaries etc. fringe benefits, that means that they take their money on 81 go to outside the city pay taxes in those communities that have some of the best schools we have an underfunded School District. So I just want to put into context what we're talking about."
About the Author
Donney Rose is a poet, essayist, Kennedy Center Citizen Artist Fellow, advocate, and Chief Content Editor at The North Star. He believes in telling how it is and how it should be