Black History Month 2020: 29 Freedom Fighters
With 2020 being a leap year, we're taking advantage of Black History Month with our special social media feature entitled, 29 Freedom Fighters". Follow us on Instagram @TheNorthStarMedia every day in February for another entry into the series.
---
FEBRUARY 1 - Joseph McNiel
On this date in 1960, 60 years ago, North Carolina A&T student Joseph McNeil, along with college buddies Franklin McCain, Ezell Blair Jr. and Dave Richmond, decided to sit down at the segregated lunch counters of the local Woolworth's and sparked a revolution. It's now known as the first lunch counter sit-in protest of the of the Civil Rights Movement. And the four young men are now known as the Greensboro Four. The actions they took that day changed the course of the Jim Crow South forever.
---
FEBRUARY 2 - Bob Moses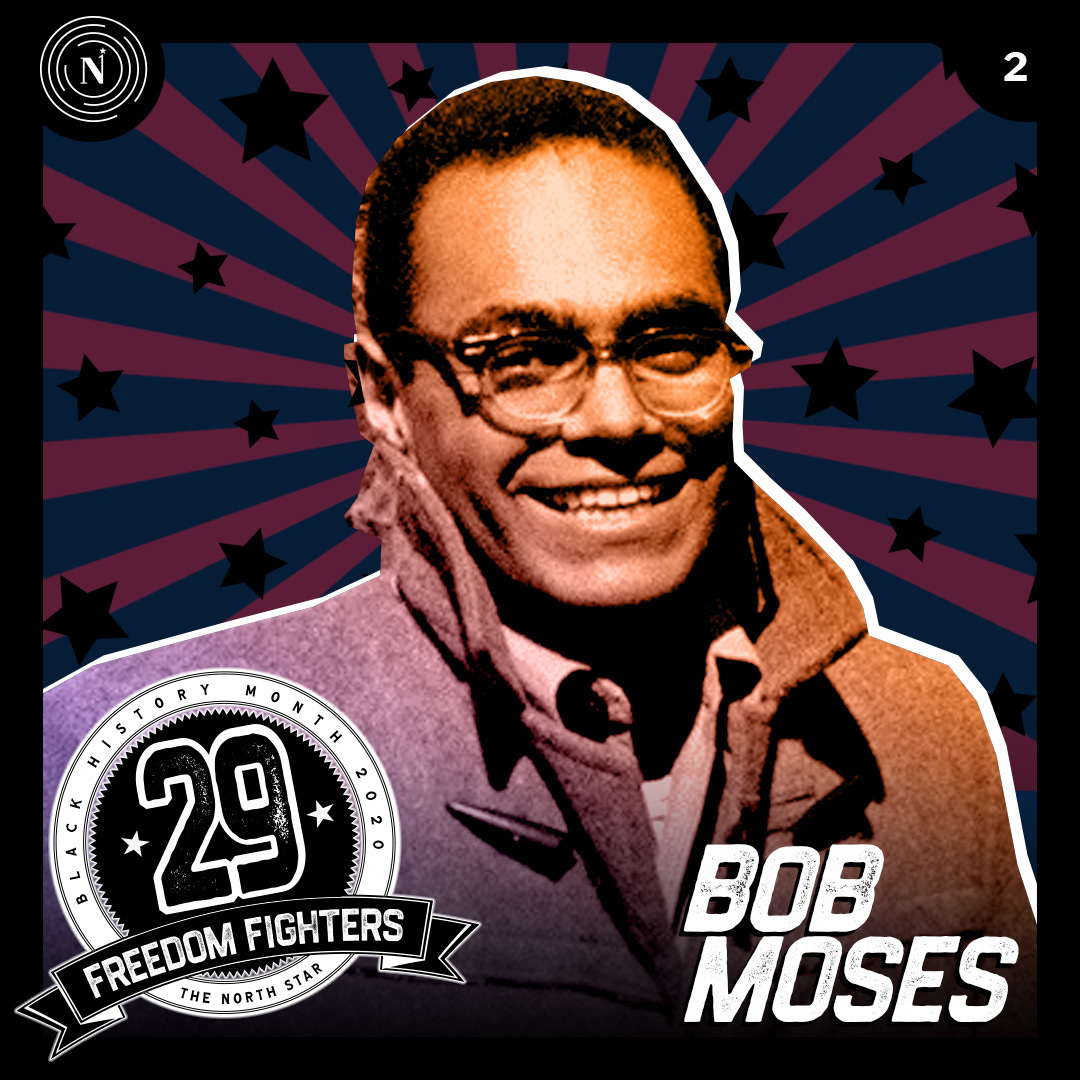 Bob Moses is the single most important organizer in the Civil Rights Movement that you have probably never heard of. With a graduate degree from Harvard, he was a school teacher in New York when he dropped his whole career in 1960 to organize everyday people in Mississippi. He was the National Field Secretary (that just means organizer) for the Student Non-Violent Coordinating Committee (SNCC). He was the Mississippi Director for SNCC. He was the Director of famous Freedom Summer program in Mississippi. He was a lead organizer of the Mississippi Freedom Democratic Party. Our Founder, @ShaunKing recently had a long conversation with Bob Moses about the work Moses did when he and his family moved to Africa. After returning to the United States, Moses became a world renowned math educator - even winning a MacArthur Genius Grant for his work - which he eventually took to develop Algebra Projects in 200 cities around the country. We could say so much more about Bob Moses! He is a living legend and an American treasure.
---
FEBRUARY 3 - Claudette Colvin
Claudette Colvin should be a household name. A full 9 months before Rosa Parks refused to give up her seat on a segregated bus in Montgomery, Alabama a courageous 15 year old girl named Claudette Colvin refused and was arrested for doing the same thing on March 2nd, 1955. Witnesses said that she boldly quoted the Constitution to police as they dragged her off of the bus. Her case was actually included in a federal lawsuit that eventually banned segregated public transportation. Know her name. She is still alive and lives in The Bronx, New York!
---
FEBRUARY 4 - Ida B. Wells
Ida B. Wells was literally the most famous Black Woman in America as she organized and fought against lynching and injustice across the country.
In 1884 a train conductor demanded that she give up her seat to a white woman. When she refused, the conductor and two other men dragged her off of the train. That same year, she sued the train company for the mistreatment and won — a bold, groundbreaking victory that put her in danger for the rest of her life. The racist Tennessee Supreme Court eventually overturned her victory, but doing so only caused Wells to have an even bigger heart for those facing injustice.
Ida B. Wells was born enslaved in Mississippi in 1862, yet developed into the preeminent journalist of her time, a determined and entrepreneurial author, a highly effective public speaker, founder of the National Association for the Advancement of Colored Women, and a co-founder of the NAACP.
We could say so much more about Ida B. Wells, but must say this — she inspired us to restart The North Star and we strive to operate with her boldness every single day.
---
FEBRUARY 5 -Charles Person
As a student at Morehouse in February of 1960, Charles Person began protesting around Atlanta as the sit-in movement began to ripple through Atlanta's black campuses. A year later, he joined the first Freedom Rides, testing the Supreme Court's 1960 decision in Boynton v. Virginia, which declared segregation in interstate bus and rail stations unconstitutional. At 18 he was the youngest of 13 Freedom Riders ( seven black, six white) to board the first bus on May 4, 1961, in Washington, D.C. bound for the Jim Crow South.
And in Birmingham, AL on Sunday, May 8, Mother's Day, just four days into the journey, Person was attacked by an angry white mob that was waiting for him as he entered the bus depot. White men with steel pipes beat and kicked Person as he fell to the ground inside the station. "It was chaos," Person remembers. "We went into the waiting room and the whole room came toward us. The police chief told the mob that they could have 15 minutes to do whatever they wanted." Person survived the ordeal, escaping to the black part of town an called for help. Years later he developed a knot at the base of his skull from one of the blows he received that day. "I never thought about (dying). I just prayed a lot. In Birmingham, they beat anybody that they thought had any relationship with us, white, black or otherwise." Later in life, Person joined the Marines, which he called most segregated of the four branches of the military. And, always one to persist, 10 years into his service, he became an officer.
---
FEBRUARY 6 -Diane Nash
A fearless fighter of injustice and defender of non-violence, Diane Nash attended Fisk University, an HBCU in Nashville and set out to get involved in desegregation. Toward the end of 1959, she and several other students in the area received sit-in training by Rev. James Lawson, a man who'd studied the non-violent methods of Mahatma Gandhi. ⁠ ⁠ In a backroom of Nashville's Clark Memorial Methodist Church, Diane learned the techniques necessary to bring about change though non-violence, and helped spearhead what would be known as The Nashville Student Movement, a series of orchestrated sit ins at lunch counters that brought about the desegregation of downtown Nashville.⁠ ⁠ A founding member of Student Non-Violent Coordinating Committee (SNCC), Nash became a leader in the Civil Rights Movement, not only organizing sit-in campaigns, but coordinating the continuation of the Freedom Rides after a violent bus attack in Anniston, AL made some consider halting the mission. She also directed voting campaigns and marches, including the Selma to Montgomery march.⁠ ⁠ "Young people today think that you make change by just protesting, but besides protesting it takes the 6 Steps of a non-violent campaign," said Nash when reached by The North Star in her Chicago home. "Step 1 is Investigation. Step 2 Education. Step 3 Negotiation. Step 4 Demonstration. Step 5 Resistance and Step 6 Taking the necessary steps to make sure the problems don't return."⁠
---
FEBRUARY 7 - James Farmer
One of the pillars of the Civil Rights Movement, James Farmer was born in Marshall, TX in 1920. Along with Martin Luther King, Congressman John Lewis, labor leader A. Phillip Randolph, NAACP leader Roy Wilkins and National Urban League director Whitney Young, Farmer is a member of the "Big Six" of Civil Rights fighters. He was one of most influential freedom fighters of the 20th Century. He studied the nonviolent philosophy of Mahatma Gandhi at Howard University and it became the key tool for dismantling segregation.
In 1942, still in his early 20s, Farmer co-founded the Committee of Racial Equality which later became the well-known Congress of Racial Equality (CORE). As CORE's director in 1961, Farmer organized the Freedom Rides following a Supreme Court ruling that had desegregated interstate bus stops and train stations throughout the country; and he used non-violence as the guiding principle. After bloody assaults from white mobs in Alabama, Farmer boarded a bus bound for Jackson, MS. Once there, Farmer and numerous others were arrested and sent to the Mississippi state penitentiary where they were placed in solitary confinement on Death Row, all the while refusing to stop singing.
In 1963 armed Louisiana State troopers went door-to-door looking for Farmer in Plaquemine, LA, where he was organizing protests. With the assistance of a local funeral director, Farmer escaped capture by playing dead in the back of a hearse that whisked him out of town. "I was meant to die that night," Farmer is quoted as saying on CORE's website. Years later Farmer lost vision in his right eye, something he believes was a result of being tear gassed, and was often seen wearing a black patch. In his final years he lived a solitary existence in Fredricksburg, Va. confined to a wheelchair. But in 1998, Farmer received the country's highest civilian honor, the Presidential Medal of Freedom, awarded by President Bill Clinton. "Vindication, an acknowledgment at long last," he said.
Farmer died a year later at the age of 79.
---
FEBRUARY 8 - Audre Lorde
Audre Lorde was a famed poet, a teacher, a writer, a womanist, a scholar, and a librarian, but we have proudly included her in our series on 29 Freedom Fighters during this Black History Month not just because she was also an activist, but because she gave voice, shape, and vocabulary to the beauty and pain, the peaks and valleys, the highs and lows of Black life. She spoke of self-care generations before it ever trended on Twitter. She spoke of the concept of intersectionality before the word was coined. To get out of our own way, we just want to include some of our favorite quotes Audre Lorde. Bow down. "The master's tools will never dismantle the master's house." • "It is not our differences that divide us. It is our inability to recognize, accept, and celebrate those differences." • "Your silence will not protect you." • "I am deliberate and afraid of nothing." • "If I didn't define myself for myself, I would be crunched into other people's fantasies for me and eaten alive." • "When I dare to be powerful, to use my strength in the service of my vision, then it becomes less and less important whether I am afraid." • "When we speak we are afraid our words will not be heard or welcomed. But when we are silent, we are still afraid. So it is better to speak." • "Life is very short and what we have to do must be done in the now." • "Revolution is not a onetime event." • "Only by learning to live in harmony with your contradictions can you keep it all afloat."
---
FEBRUARY 9 - Ella Baker
Ella Baker was hands-down your favorite organizer's favorite organizer. For nearly 60 years she mentored, guided, advised and coached activists, scholars, politicians, and organizers including W. E. B. Du Bois, Thurgood Marshall, A. Philip Randolph, Dr. King, Rosa Parks, Diane Nash, Stokely Carmichael, Bob Moses, Julian Bond, and THOUSANDS more. She was arguably the single most influential woman in the entire Civil Rights Movement. If she was a man she'd likely be a household name, but she deliberately avoided the limelight and served as a chief strategist for both the SCLC and SNCC. She later helped form essential organizing groups all over the country and indeed across the world. Fiercely private, she remained an advocate and confidante to leaders deep into her 80s.
---
FEBRUARY 10 - Bayard Rustin
Born in 1912, Bayard Rustin became an influential fighter for the rights of Blacks and gays, was a labor organizer, and a key advisor to Martin Luther King. Rustin traveled to India in the 40s to learn the non-violent methods of Mahatma Gandhi as well as journeyed to Ghana and Nigeria to speak with freedom fighters there. The non-violent principles became a focal point of his work toward desegregation. But in 1953, Rustin's life was upended. He was arrested in Pasadena, Calif., found in the backseat of a car with two men. The charge? Lewd vagrancy. Rustin pled to a lesser charge of "sex perversion" and spent 50 days in jail, but the arrest outed Rustin's gay lifestyle. Many feared his sexual life would hurt The Movement and because of this, much of Rustin's work was done behind the scenes and went unrecognized. In 1955 he helped Dr. King coordinate the Montgomery Bus Boycott, was a founding member of the Southern Christian Leadership Conference; was one of the first Freedom Riders; and in 1963, ten years after his arrest, he made what may be his greatest contribution to the movement as the architect of the August 28 March on Washington, providing the platform for King's "I Have a Dream Speech". Rustin didn't get involved in the fight for gay rights until the 1980s, testifying in 1986 in defense of New York's Gay Rights Bill saying, "The question of social change should be framed with the most vulnerable group in mind: gay people." Rustin died a year later at the age of 75. Because of his advocacy for gay rights, Rustin was one of the first 50 honorees recognized on the National LGBTQ Wall of Honor within the Stonewall National Monument in New York City's historicStonewall Inn in 2019. He was posthumously awarded the Medal of Freedom by President Barack Obama in 2013. It was presented to his longtime partner Walter Naegle. And on February 5 of this year, 67 years after entering his guilty plea, California Governor Gavin Newsom announced his plan to clear the convictions of same-sex encounters. Rustin was the first to be pardoned.
---
FEBRUARY 11 - Fannie Lou Hamer
"All my life I've been sick and tired. Now I'm sick and tired of being sick and tired."⁠ These were the words of Fannie Lou Hamer when she ran for the U.S. Senate out of her home state of Mississippi in 1964, one year before the passage of the Voting Rights Act.⁠ Hamer lost that race, and one for MS State Senate seven years later. But she had made a clear statement.⁠ Hamer was born in 1917, the youngest of 20 growing up in the Deep South.⁠ It wasn't until members of the SNCC knocked on her door in the summer of '62 that she got involved in the Movement.⁠ Hamer tried to register to vote, but failed the test used to keep Blacks disenfranchised. Her boss found out about her attempt, as it was state law to print names in the local paper of anyone trying to register, and Hamer was fired. Days later, the home she was sleeping in was shot at 16 times in a drive-by shooting.⁠ Months later, she took the test to register again, and failed.⁠ Undeterred she took the test a 3rd time and passed, only to be told she lacked the poll tax receipts needed to vote.⁠ Not to be denied her right to vote, Hamer paid the tax.⁠ But the more she had to do to fulfill her constitutional right to vote, the more Hamer became involved in trying to help others. She attended meetings and workshops. She was arrested for her actions. And beaten. ⁠ "We're tired of all this beatin', we're tired of takin' this. It's been a hundred years and we're still being beaten and shot at, crosses are still being burned, because we want to vote," she said.⁠ Hamer traveled the state to help Blacks register to vote. She was one of the key organizers of Freedom Summer, a massive MS voter drive in '64, and a co-founder of the National Women's Political Caucus, a multi-partisan group whose purpose is to help women reach political office. That same year, she co-founded the Mississippi Freedom Democratic Party which, by 1968, integrated state delegations in the Democratic Party.
Fannie Lou Hamer fought for the rights of Blacks and Women up until the day she died in 1977. She was 59.⁠
---
FEBRUARY 12 - Denmark Vesey
The story of Denmark Vesey is one of the single most amazing stories in all of American history. South Carolina worked for generations to make sure it was never known. Born with the African name, Telemaque, in the Caribbean in 1767, Denmark was bought, sold, and traded as property. At the age of 14, he was sold to a sea captain named Joseph Vesey. Vesey sold young Telemaque, but he pretended to have seizures, forcing the new owner to return him to the sea captain. That move not only saved Telemaque's life but forever changed his destiny. Until he was 32 years old, Telemaque served as the enslaved personal assistant to Joseph Vesey who settled in Charleston, South Carolina. Telemaque could read, write, knew multiple trades, and had money to occasionally play the local lottery. In 1799, he played it, and won $1,500 - using it to purchase his own freedom. He was 32 years old. There he changed his name to Denmark Vesey. For years, living a free Black man in Charleston, Denmark built up a business so that he could purchase the freedom of his wife and children, but the evil "owners" refused. Beyond breaking the heart of Denmark, the rejection put the seeds of an idea in his mind that he would eventually need to lead a revolt to not only free his family, but thousands of enslaved families across South Carolina.
In 1821, Denmark and a small core of his closest friends began planning the largest revolt of enslaved people in American history. At first, dozens agreed to participate. Then a few hundred. Then a thousand. Then thousands. The plot spread all over Charleston and throughout all of South Carolina. The plan was to take over the town armory and use those weapons to take over ships in the Charleston Port, and to sail to Haiti where they could be free. Alas, just days before the revolt was to begin, in the summer of 1822, three different enslaved Africans reported the plans to their "masters." Word spread to the Mayor and other government officials, who soon arrested and executed Denmark and his closest conspirators. The revolt was effectively ended, but the revolutionary stories and spirit spread all over the world.
---
FEBRUARY 13 - James Lawson
In fall of '59, in a backroom of Nashville's Clark Memorial Methodist Church, students from nearby Fisk University, Tennessee A&I, Meharry Medical College and American Baptist Theological Seminary, as well as Pearl High School, met in secret. Notes had been slid beneath dorm doors about a secret meeting, one that would confront Jim Crow segregation head on. Students from all over Nashville came. And what they received was non-violent sit-in training from Rev. James Lawson. As part of the training, seated students were yelled at, spat on and cussed out. John Lewis, then a Fisk student now a congressman, was there. As were other Civil Rights leaders such as Diane Nash, James Bevel and Rev. C.T. Vivian. They were instructed by Lawson, a man who had studied the non-violent methods of Mohandas Gandhi in India, to take every abuse they were given and not return a thing. After weeks of training, the students were ready, and on Feb. 13, 1960, 60 years ago today, over 150 students went downtown, walked into the Woolworths and the Walgreens and 8 other lunch spots, and took seats at the whites-only lunch counters. After 2 hours of no service, the students left without incident. And on Feb. 18 they returned, this time in numbers north of 200. They too went unserved. They returned two days later, this time with an angry white mob looking on. Yet no violence occurred. But on the next visit, on Feb. 27, violence broke out as the white mob had returned, pulled students off stools and beat them. When the police arrived, the students were told to disperse; they refused and were arrested. The sit-ins and arrests continued and by mid-May, the businesses broke and lunch counters in Nashville were finally desegregated. By this time, Lawson's methods had spread throughout the South. He went on to instruct Freedom Riders, assisted at the March on Washington and Freedom Summer in '64. The students he trained went on to change the country, playing major roles in desegregating the South. At 91 years young, Lawson lives in Los Angeles and is still active. This week, he'll be in Nashville on the anniversary. Where it all started.
---
FEBRUARY 14 - Frederick Douglass
Our founder, Frederick Douglass, chose TODAY, February 14th, 1818, as his birthday. "I have no accurate knowledge of my age, never having seen any authentic record containing it," he said. While this was "normal" for enslaved Africans to be deprived of such basic knowledge, it reveals the true ugliness of the system. As but a baby boy, he was permanently separated from his mother. Of this, he said "My mother and I were separated when I was but an infant ... It [was] common custom, in the part of Maryland from which I ran away, to part children from their mothers at a very early age. ... I do not recollect ever seeing my mother by the light of day. ... She would lie down with me, and get me to sleep, but long before I waked she was gone." This, too, was a "normal" practice. But of course this is not normal at all. The dominant white power structure of the United States has long since practiced such atrocities. His mother, worked to death, died on a plantation just 12 miles away from him when he Frederick was a young boy. Raised until he was six years old by his grandmother, he was then forcefully separated from her, and all blood relatives, and sold as property to another plantation. For the first 20 years of his life Frederick Douglass was bought, sold, and traded all over Maryland. In 1837, Frederick fell in love with a free Black woman named Anna Murray. That following year, with money and support given to him by Anna, he escaped slavery on September 3rd, 1838, and in just 24 hours made it all of the way to New York City. "I have often been asked, how I felt when first I found myself on free soil. And my readers may share the same curiosity. There is scarcely anything in my experience about which I could not give a more satisfactory answer. A new world had opened upon me. If life is more than breath, and the 'quick round of blood,' I lived more in one day than in a year of my slave life. It was a time of joyous excitement which words can but tamely describe. In a letter written to a friend soon after reaching New York, I said: 'I felt as one might feel upon escape from a den of hungry lions.'"
---
FEBRUARY 15 - Fred Shuttlesworth
Martin Luther King Jr. once called Frederick Lee Shuttlesworth "the most courageous civil rights fighter in the South," because he was. Born in Mount Meigs, Alabama, in 1922, he became a licensed and ordained preacher in 1948.⁠
In 1955, he became involved in the local chapter of the NAACP. When a judge banned the local chapter in 1955, Shuttlesworth planned a meeting in June of that year to start a new organization known as the Alabama Christian Movement for Human Rights (ACMHR). After the U.S. Supreme Court ruled that the bus segregation in Montgomery was unconstitutional in 1956, Shuttlesworth and the ACMHR planned to challenge segregation on Birmingham buses. The night before the demonstration, a bomb exploded under his home. Shuttlesworth wasn't harmed, and the campaign followed the next day with several hundred protesters who sat in sections of buses that were reserved for white people.⁠
In 1957, Shuttlesworth joined forces with Martin Luther King Jr. and C.K. Steele to create the Southern Christian Leadership Conference (SCLC) to continue to integrate transportation. By 1963, the SCLC and the ACMHR worked together to protest segregation in Alabama, which became known as the Birmingham Campaign. During that time, Shuttlesworth issued the "Birmingham Manifesto," which explained why the Black community continued to protest. Shuttlesworth wrote: "The absence of justice and progress in Birmingham demands that we make a moral witness to give our community a chance to survive."⁠
By April 6 of that year, Shuttlesworth led the campaign's first march to city hall. Despite suffering injuries from the march that left Shuttlesworth hospitalized, negotiations were held with the city's business community and local Black leaders to desegregate public facilities. ⁠
---
FEBRUARY 16 - Sojourner Truth
A pioneer in more ways than one, Sojourner Truth exemplifies strength and determination. Born into slavery as Isabella Baumfree in 1797, she escaped to freedom in 1826 and became an outspoken abolitionist, women's rights activist and evangelist. ⁠
Truth was forced to escape to freedom with her infant daughter leaving her other four children behind after her enslaver failed to grant her freedom as promised. When the New York Anti-Slavery Law emancipated all enslaved people in 1827, she became the first Black woman to sue a white man in a United States court and win. Truth won custody of her 5-year-old son Peter, who was illegally sold into slavery in Alabama. ⁠ ⁠ In 1843, a deeply devout Christian, Baumfree officially changed her name to Sojourner Truth and embarked on a lifetime journey to spread the word of God and speak out against slavery. A year later, she joined the Northamption Association of Education and Industry, where she met abolitionist Frederick Douglass, and began her work as an equal rights activist. She delivered her inspiring "Ain't I A Woman?" speech at the 1851 Women's Rights Convention in Akron, Ohio. ⁠
Truth's work only expanded during the Civil War, when she urged young Black men to join the Union. She traveled to Washington, D.C. to work for the National Freedman's Relief Association, which encouraged people to donate food, clothes and other goods to Black refugees. In October 1864, Truth was invited to the White House by President Abraham Lincoln, who shared a Bible given to him by African Americans in Baltimore. After the Civil War ended, Truth worked tirelessly to help formerly enslaved people find work. ⁠
---
FEBRUARY 17 - John Lewis
John Lewis dedicated his life to fighting for civil rights at a young age. Born in 1940 in Troy, Alabama, Lewis was first exposed to the Civil Rights Movement after he heard one of Rev. Martin Luther King Jr.'s sermons on the radio. Inspired by King, Lewis began preaching at local churches when he was 15-years-old and later enrolled in the American Baptist Theological Seminary in Nashville, Tennessee.⁠
While he was a student at Fisk University in Tennessee, Lewis participated in Freedom Rides, which were demonstrations to end segregation in public transportation across the South. Because of his dedication to fighting for civil rights, he was named chairman of the Student Nonviolent Coordinating Committee (SNCC) in 1963. The organization was committed to organizing student activism during the Civil Rights Movement.⁠
Lewis was named one of the Big Six leaders of the Civil Rights Movement when he was just 23-years-old. He, alongside civil rights leader Hosea Williams, lead 600 peaceful protestors across the Edmund Pettus Bridge in Selma, Alabama on March 7, 1965, to fight for voting rights in the state. The marchers were attacked by Alabama State Troopers in a brutal attack known as "Bloody Sunday." By the time Lewis left SNCC, he had been arrested more than 40 times and endured serious injuries from physical attacks. ⁠
He continued fighting for civil rights through his work as the Associate Director of the Field Foundation and by participating in the Southern Regional Council's voter registration programs. When he was promoted to Director of the Voter Education Project (VEP), he added nearly four million voters of color to the rolls.
Lewis was elected to the Atlanta City Council in 1981. In 1986, he was elected to Congress, where he is currently serving as U.S. Representative of Georgia's Fifth Congressional District. Since then, Lewis has been honored for his activism by being the recipient of many awards, including the Presidential Medal of Freedom.⁠
---
FEBRUARY 18 - Medgar Evers
Civil rights activist Medgar Evers dedicated years of his life to push for equal rights for African Americans before he was brutally assassinated by a white supremacist steps away from his home. Evers did not allow constant threats to his life to stop him from being a vocal activist in the South.
In 1943, the Mississippi native joined the U.S. Army and fought in the Battle of Normandy. Back home, Evers faced another tough battle: racism and mistreatment for being Black. He and five friends were stopped from voting in a local election at gunpoint.
Evers studied business administration at Alcorn State University, where he met and married his wife Myrlie Beasley. After he finished his degree in 1952, the couple moved to Mound Bayou, Mississippi. There, Evers worked as the president of the civil rights organization Regional Council of Negro Leadership (RCNL), through which he organized a boycott of service stations that banned Blacks from using their bathrooms.
In 1954, Evers applied to the segregated University of Mississippi Law School. When the school rejected him, the NAACP launched a campaign to desegregate the university. That year, Evers also became the NAACP's first field officer in Mississippi. Evers continued activism, from boycotts against white merchants to his public investigations into the murder of Emmett Till.
On June 12, 1963, as he walked to his Jackson, Mississippi home from an NAACP meeting, Evers was fatally shot in the back. Evers struggled up the steps of his house and collapsed. His wife and three children rushed to his side, but Evers sadly succumbed to his injuries and died.
The FBI arrested known white supremacist Byron De La Beckwith for Evers' murder, but he was released after two all-white juries failed to reach a verdict. In the early 1990s, Evers' widow Myrlie urged local prosecutors to reopen the investigation. On December 1990, Beckwith was indicted by a new grand jury. In 1994, he was convicted and sentenced to life in prison for murdering Evers. ⁠
---
FEBRUARY 19 - Catherine Burks-Brooks
Catherine Burks-Brooks was only a child when she began her own way of protesting. The Birmingham, Alabama, native would purposely bump into white people on the street while walking alongside her mother. In a previous interview with The New York Daily News, she said the white people she bumped into "would just give me an ugly frown. I didn't say it then — I can say it now — but that was my way of protesting."⁠
When she was a junior at Tennessee State University, she joined the Nashville Movement. In 1960, she began sitting in at segregated lunch counters and was even threatened by a white man who said he would put out his cigarette on her face. The following year, she participated in The Freedom Rides, where Freedom Riders rode buses throughout the South to challenge an unconstitutional decision made by the Supreme Court to segregate interstate transportation facilities. Burks-Brooks joined the Freedom Rides after a group of Klansman bombed one of the buses. When Burks-Brooks and other Freedom Riders attempted to sit in the whites-only waiting room in a bus station in Birmingham, they were arrested by Birmingham Public Safety Commissioner Bull Connor.⁠
While the students were being driven back to Tennessee by Connor in two limousines, Burks-Brooks sat in the front and chatted with Connor about how wrong he was to not support the civil rights movement. To the student's surprise, Connor ordered his officers to stop the vehicles just across Tennessee state lines and told the officers to throw the student's bags on the side of the road. Burks-Brooks screamed at Connor, telling him: "We'll see you back in Birmingham by high noon."⁠
Despite being left on the side of the road in the middle of the night, Burks-Brooks stuck to her word and returned to Birmingham the next day. During her time as an activist, Burks-Brooks served time at the Parchman State Penitentiary in Mississippi after the Freedom Rides moved to Jackson.⁠
---
FEBRUARY 20 - Maria W. Stewart
Abolitionist, women's rights activist, essayist and lecturer: all words that describe Maria Stewart. Born as Maria Miller in 1803 in Hartford, Connecticut, Stewart was a force to be reckoned with. ⁠
Despite being born free, Stewart was forced at the age of five to become an indentured servant in the house of a white clergyman. She lived with the clergyman's family until she was 15, when she worked as a domestic servant while attending New England's free "Sabbath schools" to further her education. ⁠
In 1826, at the age of 23, Stewart married 44-year-old James W. Stewart, a War of 1812 veteran, in Boston. Less than three years later, James Stewart died, leaving his wife with no children but a substantial inheritance. Unfortunately, the white executors of her husband's will deprived her of his estate. This pushed her to turn to domestic service once again. ⁠
After her husband's death, Stewart decided to use her education and her experience witnessing racism in New England to begin writing and lecturing on racial justice. Despite difficulties in speaking out at a time when women, let alone Black women, were allowed to speak in public, Stewart was encouraged to continue her work by abolitionist publisher William Lloyd Garrison. ⁠
Stewart delivered four powerful speeches that challenged inaccurate assumptions about Black people and women and their education. Her speeches, however, were never fully welcomed and she ultimately decided to move to New York. There, she met Fredrick Douglass, wrote anti-slavery articles and taught Black girls. Stewart, thankfully, lived long enough to see the end of slavery. ⁠
---
FEBRUARY 21 - Marsha P. Johnson
The transgender activist was a true pioneer for the LGBTQ community. Marsha P. Johnson was one of the key figures of the historic Stonewall Riots of 1969. Johnson, who grew up in Elizabeth, New Jersey, began wearing dresses at the age of five years old but stopped because of how other children treated her. After graduating from high school in 1963, she moved to New York City with $15 in her pocket and a bag of clothes.⁠
Johnson permanently changed her name from Malcolm to Marsha in 1966. If anyone asked her what the initial P. stood for in her middle name, she replied "Pay it no mind," to deter anyone from asking hateful questions. She was just 23 years old when she resisted police during the Stonewall Riots at the Stonewall Inn, a gay bar, in Greenwich Village on June 28, 1969. ⁠
Johnson did more than fight back during the riots. Along with her friend Sylvia Rivera, the two founded STAR (Street Transvestite Action Revolutionaries) to advocate for transgender youth in 1970. For a while, the organization housed, clothed and fed transgender youth at an apartment building in the East Village. She was also an AIDS activist and was involved in ACT UP, a coalition that worked to end the AIDS pandemic. ⁠
Unfortunately, Johnson's life was cut short. On July 6, 1992, her body was pulled out of the Hudson River. Her death was quickly ruled a suicide by authorities, but later that year, the case was reclassified to drowning from undetermined causes. In 2012, authorities reopened the case. Johnson's legacy still lives on. Last year, Johnson and Rivera were honored with a monument in NYC in Greenwich Village. ⁠
---
FEBRUARY 22 - Malcolm X
Have you ever asked yourself why some freedom fighters have their stories told over and over again throughout time? Malcolm X was so bold, so courageous, so charismatic, a once in a lifetime speaker and thinker, that to this day, now 55 years after his assassination, he is regularly listed as one of the most influential leaders in the world for organizers and activists from all generations. We gravitate to him not just because of the sharpness of his words, but because we love his story of overcoming the nearly insurmountable obstacle of long term imprisonment, as the hustler known as Detroit Red, to one of the most important voices at one of the most important times in American history. Not only did we witness him transform from Detroit Red to Malcolm X, but we had just a small chance to see him mature and grow into El Hajj Malik Shabazz - a leader who wanted the chance to reconcile and build bridges across the Civil Rights Movement, that never fully had the chance to do so. To this day, from Barack Obama, to Colin Kaepernick, to our own CEO, Shaun King, Malcolm continues to be the standard for what a transformational leader is and can be.
---
FEBRUARY 23 - Septima Clark
"The greatest evil in our country today is not racism, but ignorance," Septima Poinsette Clark once wrote. Taught to have a love for education, Clark helped push the Civil Rights Movement forward not by protesting but by educating. She was a pioneer in political organizing that aimed at increasing literacy among African Americans in order to gain political, economic and social power. ⁠
Clark was born in Charleston, South Carolina in 1898 to a formerly enslaved father, Peter Poinsette, and his wife Victoria, who grew up free in Haiti. The couple instilled a love of education in their daughter, leading her to eventually become a teacher. She soon realized that segregation would bar her from teaching children in her hometown. In 1919, Clark joined forces with the NAACP and worked to collect the signatures of Black parents who wanted their children to have Black teachers. A year later, Clark's work paid off and the ban on Black teachers was eliminated.⁠
She didn't stop there. Clark continued to advocate for Black educators and for equal pay. In 1945, pay for white and Black teachers was finally made equal. Seven years later, a South Carolina law that forbid public employees to belong to the NAACP forced Clark out of the classroom, but not for long. ⁠
Clark turned to literacy work, educating Blacks about citizenship and their civil rights. Dr. Martin Luther King, Jr. invited Clark to work in Citizenship Schools in Atlanta, Georgia to help educate a new generation of voters. Clark's work led to more than 800 citizenship schools.⁠
---
FEBRUARY 24 - Anna Julia Cooper
Author, educator, activist and feminist Anna Julia Cooper was one of the most prominent Black scholars in U.S. history. Anna Julia Haywood was born into slavery in 1858 in Raleigh, North Carolina. While attending St. Augustine's Normal School and Collegiate Institute, she became interested in math and science at a young age. She married George Cooper, a teacher of theology at Saint Augustine's, in 1877. After his death two years later, Cooper went on to continue her education.⁠
Cooper received a scholarship to Oberlin College, where she decided to take the "Gentlemen's Course" instead of the program that was designed for women. After earning her bachelor's in 1884 and a master's degree in mathematics in 1887, Cooper moved to Washington, D.C. to teach at Washington Colored High School. In 1892, Cooper published her first book, "A Voice from the South by a Black Woman of the South," which is considered one of the first articulations of Black feminism. ⁠
Following the publication of her book, Cooper traveled across the U.S. and lectured on education for Black women and civil rights. In 1902, she took a job as principal of M Street High School (formerly Washington Colored High School). Cooper disagreed with the all-white high school board on her educational approach for teaching Black students, which involved college prep. She resigned in 1906.⁠
Cooper also created the Colored Women's League in 1892. When organizations like the Young Women's Christian Association (YWCA) and the Young Men's Christian Association (YMCA) refused to accept Black members, she created "colored" branches to support young Black people moving from the South to Washington, D.C.⁠
Cooper went back to pursue her doctorate degree and attended Columbia University in 1911, but postponed her degree after her brother died in 1915. She returned to school in 1924 to study at the University of Paris in France and by 1925, Cooper became the fourth Black woman to obtain a doctorate of philosophy at 67 years old.
---
FEBRUARY 25 - Marcus Garvey
Marcus Mosiah Garvey, Jr. was born in Jamaica on August 17th, 1887 and before he turned 30 years old was arguably the single most influential Black man in the entire world.
Having freely moved, lived, and worked around the Caribbean and London, in his teens and early 20s, it developed in Garvey the notion that he was a citizen, and that Black people were citizens of the entire world. At a time where very few African Americans had ever traveled outside of the United States, Garvey, when he moved to Harlem in 1916, felt strongly that Black people must not be bound by geographical borders and boundaries when considering our options for the future.
While he did not create the ideas of Pan-Africanism or Black Pride, Garvey certainly popularized them and made the ideas as mainstream as they had ever been. He was an entrepreneur at heart and started several widely successful businesses, including a newspaper, a shipping line, and more.
His greatest work, though, was the UNIA - the Universal Negro Improvement Association. At its height, it had over 2 million members in 30 states, and countries around the world. While the NAACP was seen as being for the Black elite, the UNIA was seen as a mass organization for everyday Black people and workers around the world.
The parents of Malcolm X were active leaders in the UNIA and gave young Malcolm many of his ideas on race pride and independence for Black people. Of course, all of this made Marcus Garvey a major threat to the dominant white power structure in the United States and eventually forced him to leave the country in exile.
---
FEBRUARY 26 - Gabriel Prosser
Gabriel Prosser was born into slavery on the tobacco plantation of Thomas Prosser in Henrico County, Virginia in 1776. Prosser, who was a highly educated blacksmith, attempted to lead a slave rebellion in 1800 but his attempt was squashed when he was betrayed by other enslaved people. ⁠
Prosser was no stranger to courting trouble with the law and a long string of incidents eventually pushed him to plot rebellion. Inspired by Saint Domingue, Prosser was convinced that poor white people would join rebellious enslaved people if they rose up to fight for their freedom and rights. ⁠
In order to do this, Prosser organized a group of men to launch his rebellion. Prosser plotted to seize Capitol Square in Richmond and to take Governor James Monroe hostage in order to bargain with authorities for enslaved people's freedoms. Prosser recruited several enslaved people, some free Blacks and a couple of white workers to the cause from Richmond and other towns in Virginia. The group collected weapons and began to construct swords. Despite the preparation, Prosser's plan never came into fruition. ⁠
The group was betrayed by two enslaved men who feared for their safety and told their masters. Governor Monroe was alerted and a manhunt for the conspirators began. Nearly 30 enslaved people were arrested for the plot. Prosser managed to escape for a few days and make his way onto a schooner called Mary on the James River. ⁠
Once again, he was betrayed by a fellow enslaved person. An enslaved man named Billy turned Prosser in to authorities in the hopes of getting a $300 reward. Instead, Billy received $50 and Prosser was tried and sentenced to death. He was executed by hanging at the gallows on October 10, 1800. ⁠
---
FEBRUARY 27 - Bobby Seale
Bobby Seale's journey through political activism began at a young age and continues to this day. The co-founder and national chairman of the Black Panther Party first turned to politics while attending Berkeley High School, but it wouldn't be until he was in his twenties that he would embrace political radicalism.⁠
In 1955, Seale joined the U.S. Air Force. Just four years later, he was court-martialed and received a bad conduct discharge following a fight with a superior officer. In a 1962 rally protesting the Kennedy administration's blockade of Cuba, Seale met Huey Newton. The two developed a strong friendship rooted in radical political activism.⁠
Seale and Newton created the Black Panthers, later renamed the Black Panther Party, in 1966 as an armed force to protect Blacks from the racist Oakland police. The Black Panthers eventually grew to be a more radical voice in the Civil Rights Movement that rejected nonviolent approaches, but did not embrace the "Back to Africa" push by Black Nationalists.⁠
In 1970, Seale was arrested for protesting at the Democratic National Convention in Chicago. Seale and seven others, who were dubbed the Chicago Seven, faced trial for conspiracy to incite riots. He was then sentenced to four years in prison for contempt of court. At the same time, he was also tried in the murder of a fellow Panther suspected to be a police informant. The case ended in a hung jury.⁠
Since the 1970s, Seale has run for office, written several books and worked with young political activists. He continues to speak out about his time with the Black Panthers and advocate for civil rights. ⁠
---
FEBRUARY 28 - Elizabeth Freeman
We absolutely need you to know the story of Elizabeth Freeman. She should be a household name and her courageous story should be repeated not just during Black History Month, but any time American history is discussed!
Born around the year 1744 when slavery was still legal in New York, virtually no records existed of her family, her origins, or her lineage. We do know that from a young age she was called Bet, and eventually Mum Bet. We believe she was married, but have no record of her husband's name. Many say he was a free Black man who fought and died in the Revolutionary War.
In 1780, Bet learned of something powerful that was written in the Constitution of Massachusetts. It said, "All men are born free and equal, and have certain natural, essential, and unalienable rights; among which may be reckoned the right of enjoying and defending their lives and liberties; that of acquiring, possessing, and protecting property; in fine, that of seeking and obtaining their safety and happiness." Seeing that, she consulted young abolitionist attorneys to see if they would take her case on to say that the law meant that she, and all enslaved Africans in Massachusetts should be free. The case of Brom and Bett v. Ashley was heard the next year in August 1781 before the County Court of Common Pleas in Great Barrington. Shocking the world, the jury ruled in her favor, not only setting her free from slavery, but effectively ending slavery in Massachusetts from that point forward!!! She did that!! It was only after the ruling that Bet took on the name Elizabeth Freeman. On appeal, the case was uphold and ruled final. She was free.
---
FEBRUARY 29 - Nat Turner
Last, but certainly not least, we tell the story of Nat Turner. Turner was born into slavery on October 2, 1800, on a plantation in Southhampton County, Virginia. Turner grew up religious and said he had "visions," which led him to return to the plantation after an escape in 1821 when he was in his 20's.⁠
In February 1831, Turner took a vision of an eclipse of the sun as a sign from God to lead the slave rebellion. It is believed that a solar eclipse also inspired the rebellion on August 21 that same year, which led to Turner and six men killing Turner's master, Joseph Travis, and everyone in the Travis household. ⁠
Over the course of two days, Turner and the rebels killed nearly 60 white people. During that time, the rebels became disorganized and were defeated by state and federal troopers, and a white militia. The battles were the most effective in American history and are believed to have expedited the Civil War. ⁠
Following the rebellion, Turner and several other rebels went into hiding. Turner peacefully surrendered on October 31, 1831, to a local farmer who found him hiding in a cave. He was arrested, tried and sentenced to death by hanging. He was executed on November 11, 1831, at the Southampton County gallows. Despite his death, his story lived on. In the 1960s, Turner became an important symbol of the Black Power movement as an example of Black people standing up to white supremacy. ⁠
---
Follow us on Instagram @TheNorthStarMedia